Title:
Almost Matched
Author:
A. O. Peart
Publisher
Three Graces Publishing
Publication Date:
November 2013
Publisher's Description
Would you take another shot at love? Or just settle on a friend with benefits?

THEIR HEARTBREAKING PAST WILL MOVE YOU. THEIR PASSION WILL MAKE YOU BLUSH. THEIR ANTICS WILL MAKE YOU LAUGH OUT LOUD.

Twenty-five-year-old Natalie Davenport lugs substantial baggage. One boyfriend after the next has been a total disaster, leaving Natalie distrustful toward the male population in general. So when Colin Hampton crosses her path, she's cautious. Her heart (and some other body parts!) nudges her to go for it, while her head wants her to run for the hills.

Colin is one of those gorgeous guys who attract women, no matter the age or marital status. With a successful career at a popular Seattle radio station, hard body, and charming personality, he is the complete package. But something dark lurks in the corners of his soul; some murky experience that has changed him—maybe for the better, but maybe for the worse.

Will he steal her heart and stomp over it like other guys did?

Will she let him into her heavily fortified world despite herself?

Or will they settle somewhere in the middle—establishing the emotional boundaries to protect them from falling in love?

****************************************************************
This contemporary romantic comedy blends humor, sensuality, and angst, with zany characters and witty dialogue.

***Warning: contains sexual situations (some quite vivid!), profanity, and a high dose of sarcasm. Oh, and there is a lot of appletini and beer drinking.
May not be appropriate for readers under 18 years old. Not intended for prudes and killjoys with no sense of humor***

THE SERIES:
The Almost Bad Boys series are the stories of four feisty twenty-something women who refuse to let their past drag them down.
My rating:
**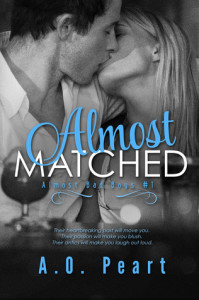 Although there were parts of this book that I enjoyed, it just didn't gel for me. I liked that Natalie was a successful entrepreneur at 25, and that she didn't apologize or excuse her success. I liked that she had strong friendships with several other women. I appreciated that she and her friends were so sex-positive, and could be honest with one another about what they thought or knew themselves to want from men. I appreciated that Colin genuinely adored Natalie, and that neither of them were into playing games. Those were the good parts of this book for me.
I found the dialog by turns artificial and stilted, but not even all of the descriptive text worked for me. Ms. Peart had a habit of not using contractions where almost every native English speaker would, which I found jarring and annoying. I didn't like how Natalie had to contrast herself with her idea of feminism, in order to contrast herself with those men-hating feminists (how many women really hate having doors opened or chairs held out for them? not as many as romance novels would have you think, I'd bet). Dear Ms. Peart: You wrote a book about a sexually confident, young entrepreneur who excels at her job. Nothing I read in Almost Matched convinced me that Natalie wouldn't like to have open to her any opportunity that would be open to a man of equal qualifications, so guess what: you wrote a book about a feminist.
I didn't find Colin's angst to be very compelling,  but that may be because the substance of it wasn't revealed until what felt far too late in the book for me. I was annoyed by how whenever he did talk about his past, he just had to mention that, although he'd never loved in the intervening years since his tragedy occurred, he'd been with many women. Okay, dude. We get it. You were an emotionally unavailable baller.
I didn't love how Natalie wanted to be supported by her friends but organized a shaming committee when Caroline confided in Natalie. None of the friends really had a storyline that didn't somehow go back into providing an object lesson for Natalie, so I didn't connect with much that happened to to (except that weird intervention that they staged on Caroline; that was cold).
I didn't feel that this book delivered on the high levels of emotion promised in the blurb, and didn't connect with this book enough to move onto the sequels.
I received this book for free from Netgalley, in exchange for an honest review.