Title:
Shady Lady
Author:
Ann Aguirre
Publication Date:
February 2011
Publisher's Description
"I'd spent my whole life settling, trying not to attract attention, and generally doing whatever it took to keep other people happy. I didn't want to do that again. Not when I was finally comfortable in my own skin. Sure, there were certain challenges, like a drug lord who wanted me dead, and the fact that I owed a demon a debt that he could call due at any moment. But everybody's got problems, right?"

Whenever Corine Solomon touches an object, she immediately knows its history. But her own future concerns her more and more. Now back in Mexico, she's running her pawnshop and trying to get a handle on her strange new powers, for she might need them. And soon.

Then former ally Kel Ferguson walks through her door. Heavily muscled and tattooed, Kel looks like a convict but calls himself a holy warrior. This time, he carries a warning for Corine: the Montoya cartel is coming for her—but they don't just pack automatic weapons. The Montoyas use warlocks, shamans, voodoo priests—anything to terminate trouble. And Corine has become enemy number one…
My rating:
****.5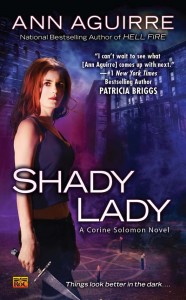 I went back and read Blue Diablo and Hell Fire before I read this book, and I'm glad I did. I hadn't visited this world for over a year, and there were lots of little details that I had forgotten. Reading the books in a series back to back will either cause you to fall more in love with it, or expose flaws that followed from book to book and make you like the series a lot less (hello, Weather Warden books). Thankfully, this book falls into the former category.
Corine Solomon is a fascinating character…and so is Kel. Ms. Aguire did an excellent job of showing how Corine and Kel's relationship changes over the course of their time together. Halfway through this book, I nearly forgot how creepy he must have seemed to every rational person in this universe (no offense to poor Shannon, but it's not like teenagers are known for their rationality).
The number of powerful, complex men in Corine's life just keeps increasing. The mutation of the Chance and Jesse situation has been fascinating to read, and then the ending of this book went and threw two new curveballs at us. I love it!
I am really looking forward to reading the next book in this series and the further adventures of Corine and co.