Title:
Sneaking Candy
Author:
Lisa Burstein
Publisher
Entangled Publishing, LLC
Publication Date:
December 9, 2013
Publisher's Description
All I ever wanted was to make a name for myself as Candice Salinas, creative writing grad student at the University of Miami. Of course, secretly I already have made a name for myself: as Candy Sloane, self-published erotic romance writer. Though thrilled that my books are selling and I have actual fans, if anyone at UM found out, I could lose my scholarship…and the respect of my faculty advisor, grade-A-asshole Professor Dylan.

Enter James Walker, super-hot local barista and—surprise!—my student. Even though I know a relationship is totally off-limits, I can't stop myself from sneaking around with James, taking a few cues from my own erotic writing…if you catch my drift. Candy's showing her stripes for the first time in my real life, and I've never had so much fun. But when the sugar high fades, can my secrets stay under wraps?
My rating:
***.5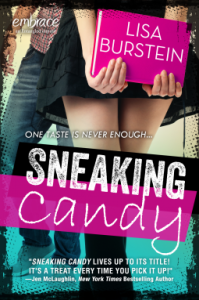 I enjoyed this book; having never been overly steeped in an academic lifestyle (my courses of study never required as much from me as Candice's did from her) initially, I wasn't quite sure what the fuss was about, or why Professor Dylan was such a jerk. Over the course of the novel, as I learned more about Candice, I felt like I understood why she struggled the way she did with how to reconcile her erotic and serious writing, and why she was so messed up over her attraction to James.  At the end of the book I did have a few questions (how did Candy get so many fans in just one month? how is she on people's favorite author lists on the strength of only one book? what constituted the fraud that required her to give back part of her stipend? how could the whole situation with Professor Dylan have been resolved so quickly? who pissed in her parents' cornflakes??), but I generally enjoyed the ride. The secondary characters in this novel were a bit underdeveloped and weren't as well-realized as Candice and James. I found Amanda to be a especially annoying and unforgivably reckless with Candice's life. James felt a little too good to be true. It's good that he was able to stick with Candice long enough for her to determine what she wanted but, even though it wasn't her intention to hurt him or play with his feelings, she jerked him around a lot in this story and I don't think that anybody could have blamed him for deciding that he didn't want to pursue a relationship with her.
I like this New Adult book on its own merits, and also because of the refreshing lack of horrific backstory on the part of either main character (distant, disappointing parents and a crappy ex barely rate when compared to some of the truly awful things other NA characters have experienced).